Regals Blow Out Beavers
13 different players score for CLU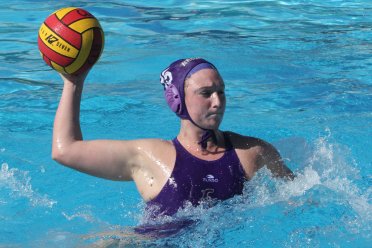 PASADENA, Calif. – In a Southern California Intercollegiate Athletic Conference (SCIAC) road matchup on Saturday afternoon, the Cal Lutheran women's water polo team throttled past Caltech by a score of 17-2.
All 21 Regals saw action in the contest while 13 different players scored for the Violet and Gold.
CLU surged ahead with seven goals in the first quarter and took an 11-1 lead at the break. In the second half, the Regals tacked on six more goals, including four in the fourth quarter.
Offensive Highlights: Avery Karich led the way offensively with a game-high three goals while KC Brendel and Mardell Ramirez each added two. Kristi McGee, Logan Young, Nicole Roed, Megan Seeman, Christin Hirn, Maddie Campbell, Victoria Rose Meek, Carissa Carlos, Remy Wilkison and Jayci Burrell also found the back of the net. Teamwork was the name of the game as the Regals accumulated nine assists.
Defensive Highlights: CLU combined for 16 steals, led by two apiece from Ramirez, Mackenzie Thomas, Karich and Taylor Martinez. Bailey Meyer and Gaby Renteria split time in the cage, tallying eight and seven saves, respectively.
Cal Lutheran (12-10, 3-2 SCIAC) returns home this Wednesday, Apr. 4 for a match against Pomona-Pitzer at 4:00 p.m.

Box Score: CLU 17, CIT 2
CLU Instagram: http://instagram.com/clusports#
W Water Polo Instagram: http://instagram.com/regals_water_polo/
CLU Twitter: https://twitter.com/clusports
W Water Polo Twitter: https://twitter.com/CLUwWaterPolo
CLU Facebook: https://www.facebook.com/clusports
Hashtags: #clusports #ownthethrone #goregals