Regals Deflated by Poets in Double Overtime
Meyer finishes with 10 saves for CLU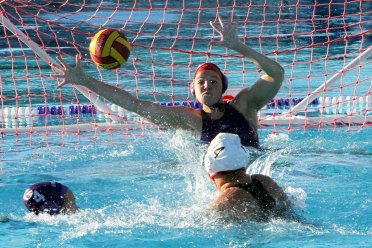 THOUSAND OAKS, Calif. – At the Samuelson Aquatics Center on late Wednesday afternoon, the Cal Lutheran women's water polo team welcomed Whittier in an exciting Southern California Intercollegiate Athletic Conference (SCIAC) contest. The Poets outlasted the Regals in double overtime winning 6-5.
It was a close matchup throughout for the Regals with the Poets starting it off with the first goal. Christin Hirn tied it up just 30 seconds after with a goal of her own. It would continue to be a cat and mouse game with Whittier scoring first and the Regals closing the deficit right away.
In the second overtime, Whittier finally broke the habit and scored with 35 seconds left to play. The Regals caught a break and had a 6-on-5 power play with 15 seconds remaining but were unable to convert it for a goal and fell 6-5.
Kristi McGee finished the day with two goals on two attempts to lead the way for the Regals. Nicole Roed and Megan Seeman each notched a mark on the scoreboard, on three and six attempts, respectively.
Defensively, Mardell Ramirez had three blocks on the day and one steal. Victoria Rose Meek, Seeman and McGee each added two blocks. The highlight of the day for the Regals was goal keeper Bailey Meyer who finished with 10 saves.
Cal Lutheran (11-10, 2-2 SCIAC) hits the road on Saturday, Apr. 1 when the Regals travel to Caltech for an 11:00 a.m. meeting with the Beavers.
Box Score: WC 6, CLU 5 (2OT)
CLU Instagram: http://instagram.com/clusports#
W Water Polo Instagram: http://instagram.com/regals_water_polo/
CLU Twitter: https://twitter.com/clusports
W Water Polo Twitter: https://twitter.com/CLUwWaterPolo
CLU Facebook: https://www.facebook.com/clusports
Hashtags: #clusports #ownthethrone #goregals