Regals Triumph Over Athenas
CLU returns to win column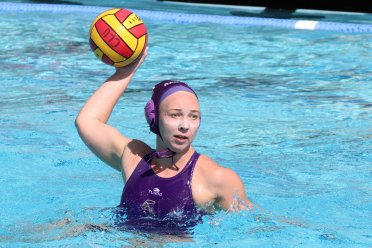 CLAREMONT, Calif. – Southern California Intercollegiate Athletic Conference (SCIAC) women's water polo play continued today for Cal Lutheran as the Regals worked to an 8-6 victory over Claremont-Mudd-Scripps on the road at the Axelrood Aquatics Center.
CLU took a 2-0 lead in the first frame on a pair of goals from Nikki Roed. In the second stanza, Christin Hirn scored and then assisted Kristi McGee as the Regals took a 4-2 advantage at the break. After halftime, Roed scored again, but CMS got within one at 5-4. The final quarter saw Cal Lutheran outscore CMS 3-2 behind a goal from Megan Seeman and two from Mardell Ramirez to secure the win.
Offensive Highlights: Cal Lutheran took 18 shots, scoring eight times for a .444 shooting percentage, while Claremont-Mudd-Scripps finished with 22 attempts and a .273 average. Leading the way for Cal Lutheran today was a hat-trick from Roed. The Regals earned 11 drawn ejections with three from Victoria Rose Meek.
Defensive Highlight: The CLU defense limited CMS to a 1-for-11 showing in man-down situations. Goalkeeper Bailey Meyer recorded nine saves and earned a steal with nine teammates notching at least one steal as well. Roed took the ball away three times and Logan Young finished with two steals. A pair of field blocks today came from Meek and Roed.
Cal Lutheran (11-9, 2-1 SCIAC) will alternate home and away contests for the reminder of league play, returning to the Samuelson Aquatics Center on Wednesday, March 29 for a 4:00 p.m. first sprint against Whittier.
Box Score: CLU8, CMS 6 – box score unavailable at time of release
CLU Instagram: http://instagram.com/clusports#
W Water Polo Instagram: http://instagram.com/regals_water_polo/
CLU Twitter: https://twitter.com/clusports
W Water Polo Twitter: https://twitter.com/CLUwWaterPolo
CLU Facebook: https://www.facebook.com/clusports
Hashtags: #clusports #ownthethrone #goregals