Leopards Outlast Regals
CLU falls in league game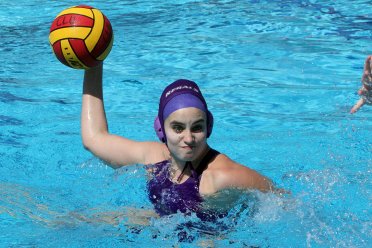 LA VERNE, Calif. – The first Southern California Intercollegiate Athletic Conference (SCIAC) road game of the season was a bitter on for the Cal Lutheran women's water polo team as the La Verne Leopards outlasted the Regals 11-9 to hand the visiting squad its first league loss of the spring.
The teams exchanged three goals in the first frame, but LV broke things open in the second with five goals while CLU managed to find the back of the net just once. Cal Lutheran outscored La Verne 3-1 in the third period, but the deficit was too much as each added two more scores in the fourth quarter.
Offensive Highlights: SCIAC newcomers Christin Hirn and Victoria Rose Meek and scored twice apiece on three and two shots, respectively. The rest of the scoring was spread out between five players. Kristi McGee handed out a team-high two assists as six of the nine goals were assisted in the game. Overall, CLU drew eight ejections with both Meek and Megan Seeman tallying two.
Defensive Highlight: Guarding the CLU cage, Bailey Meyer turned away nine LV attempts and grabbed a team-leading four steals. Hirn, Maddie Campbell and Logan Young each finished with a pair of steals and Hirn added a field block for the Regals.
Cal Lutheran (10-9, 1-1 SCIAC) remains on the road for a Saturday, March 25 showdown with the Claremont-Mudd-Scripps Athenas at 11:00 a.m.
Box Score: LV 11, CLU 9
CLU Instagram: http://instagram.com/clusports#
W Water Polo Instagram: http://instagram.com/regals_water_polo/
CLU Twitter: https://twitter.com/clusports
W Water Polo Twitter: https://twitter.com/CLUwWaterPolo
CLU Facebook: https://www.facebook.com/clusports
Hashtags: #clusports #ownthethrone #goregals