Softball Hosts Strike Out Cancer Games
CLU participates in third annual event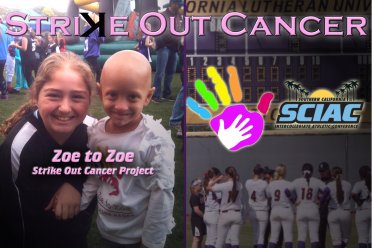 THOUSAND OAKS, Calif. – Over the weekend all of the Southern California Intercollegiate Athletic Conference (SCIAC) softball teams will participate in the third annual Strike Out Cancer campaign at four different sites. This year it has an extra special connection to Cal Lutheran with all proceeds going to the family of three-year old Zoe Feldman, an Agoura Hills resident.
The story started nearly a year ago when Feldman, also known as Little Zoe, was diagnosed with sarcoma botryoides, a rare type of malignant tumor that appears in the muscle tissue attached to the bone. Only several hundred new cases are identified each year in the United States. Since her diagnosis she has endured 42 weeks of chemotherapy and multiple surgeries.
Throughout the entire process the motto of the family has been: We Got This! Along with the high spirits, the medical bills also grew to significant heights, forcing a number of fundraisers to be generated to aid the family. Because of those efforts, the Feldman family grew a special fan, friend and supporter.
Zoe Ballen (Big Zoe), a 12-year-old pitcher was at a softball tournament where she saw the flyer about raising money for Little Zoe. While they had never met, Big Zoe was drawn to Little Zoe and decided to start raising money on her own. She began collecting donations for the Feldman family for each strikeout during her summer softball season.
By June of 2012, the two Zoes had not only met, but had become friends. They watch TV together, do their nails, run and giggle – just like little girls should. Big Zoe has also attended numerous Cal Lutheran softball games and practices and has become part of the Regals softball family.
Big Zoe has since started her own group – the Zoe to Zoe Helping Hands Project, which encourages others to do good deeds. Big Zoe has spoken to numerous groups (including the CLU Softball team, which collected items to send over to a troop in Afghanistan as their "Zoe" project), encouraging them to reach out to others. Both Zoes have had tremendous impacts on others.
Saturday, all eight SCIAC softball teams playing at four different fields are sponsoring their own Strike Out Cancer events with all proceeds being sent to the Zoe Strike Out Cancer Project. At Cal Lutheran, softball BINGO cards will be available for $3 apiece and two for $5. Donations are also welcome and checks can be payable to Zoe Feldman.
All funds raised today by the SCIAC schools will be given to the Feldman family.
Not only will student-athletes be playing for the Zoes, but the Regals and visiting Pomona-Pitzer Sagehens will be in the presence of the remarkable duo. Together, Big Zoe and Little Zoe will throw out a ceremonial first pitch prior to the start of the first game of a doubleheader at Hutton Field set to begin at noon.
Media Coverage: Thousand Oaks Acorn
The Recipient: Zoe Feldman
Strike Out Cancer Project: Zoe Ballen
Facebook: https://www.facebook.com/clusports