Kingsmen Compete in SCIAC Opener
CLU defeats CIT but falls to CMS and Redlands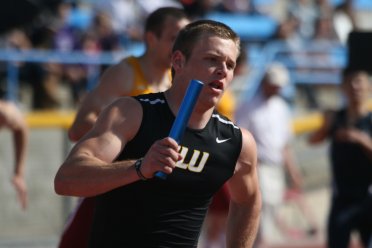 PASADENA, Calif. -- The Cal Lutheran men's track and field team dominated the throwing and hurdle events in its Southern California Intercollegiate Athletic Conference (SCIAC) opening four-way meet Saturday at Caltech. The Kingsmen defeated Caltech 102-40 but fell to both Claremont-Mudd-Scripps and Redlands.
Roy Diaz had an outstanding conference-opening meet as he captured the discus title with a throw of 41.28 meters. He continued his strong all-around performance with a third place finish in the hammer-throw after a mark of 46.56, which was also the tenth best in CLU history.
Freshman Michael Bassette also had an impressive debut, finishing third in the shot-put competition with a mark of 13.31 meters.
Justin Puccinelli rounded out the throwers by winning the javelin throw with a throw of 54.44 meters. Puccinelli's winning mark also was also good for eighth best in school history.
Erik Fruth took first place in the 110 meter high hurdles race with a time of 15.17, which also was the eighth fastest time in school history. Joseph Forster was right behind Fruth, finishing third with a time of 15.91. Fruth also finished second in the 400 meter hurdles, crossing the finish line with a time of 56.86.
During the sprints portion of the meet, Halaiano Aholelei-Fuentes was the top runner for CLU in the 100 meters, finishing fourth with a time of 11.16 seconds.
Tristan Baer took second in the 400 meter dash with a time of 49.43 before placing in third in the 200 meter dash, clocking a time of 22.63.
Baer's teammate Matthew Hamlett, finished fourth in the 400 meter dash with a time of 51.21.
Dominick Allen rounded out the top finishers for CLU when he placed fourth in the 800 meter dash, crossing the finish line in a time of 1:56.37
The Cal Lutheran relay teams had a strong showing with the 4x 100 meter relay team coming in second with a time of 42.22 while the 4x 400 meter team placed fourth, clocking a 3:31.16.
Cal Lutheran will be back on the track Friday, March 8, when it competes in the Ben Brown Invitational hosted by Cal State Fullerton. The two-day meet is set to get underway at 8:00 a.m. both days.
Results: SCIAC Quad Meet No. 1 CLU/CIT/CMS/UR
Facebook: www.facebook.com/clusports