Kingsmen Face UCLA Bruins
CLU experiences competition against Division I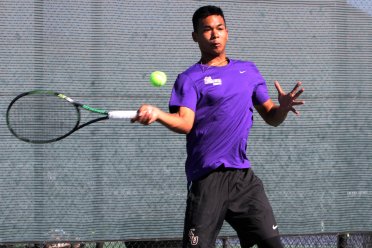 WESTWOOD, Calif. – In a rare, late season, non-conference match, the Cal Lutheran men's tennis team travelled to Division I UCLA to take on the Bruins this afternoon at the Sunset Canyon Tennis Courts where the Kingsmen fell 7-0.
Playing DI rules, the doubles matches accounted for one team point after Joshua Legardy and Kylel Gillam stepped onto court three and Lucas Tilly and Austin Wong teamed up at No. 2 where both pairs fell 6-1. The third and final doubles match pitted Dara Kashani and Jake Haffner against Maxime Cressy and Ben Goldberg on the top court and while the CLU duo tested the UCLA team, the match ended unfinished with a score of 4-2.
In singles play, the Kingsmen looked to Wong for the closest match of the afternoon as he battled Michael Guzman to a 6-4, 6-3 final at No. 6. Haffner also presented a challenge for his counterpart at No. 3, playing to a final score of 6-3, 6-1. Kashani and Tilly both played ranked opponents at No. 1 and No. 2, respectively. Kashani fell 6-2, 6-0 to No. 21 Gage Brymer and Tilly was topped 6-1, 6-0 by No. 57 Martin Redlicki. Michael Sulahian suited up on court four where he dropped a 6-0, 6-2 decision and rounding out the individual players for CLU was Sebastian Ariza who played No. 5 and was outscored 6-0, 6-0.
Cal Lutheran (5-16) returns to action on Saturday, April 22 at 10:00 a.m. inside the Poulson Tennis Center when the Kingsmen host Chapman in the final regular season dual-match.
Box Score: UCLA 7, CLU 0
CLU Instagram: http://instagram.com/clusports#
M Tennis Instagram: http://instagram.com/kingsmen_tennis/
CLU Twitter: https://twitter.com/clusports
M Tennis Twitter: https://twitter.com/CLUmTennis
CLU Facebook: https://www.facebook.com/clusports
Hashtags: #clusports #ownthethrone #gokingsmen #d3t #theSCIAC