Kingsmen Take on Top Conference Teams at SCIAC No. 3
CLU takes on top conference teams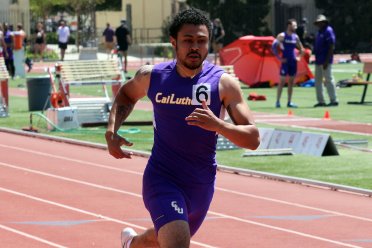 LOS ANGELES, Calif. – The Cal Lutheran men's track and field team hosted the Southern California Intercollegiate Athletic Conference (SCIAC) Multi-Dual No. 3 meet at Occidental College on Saturday afternoon and competed against the top three teams in the conference standings. Currently sitting in fourth place after two dual-meets, the Kingsmen fell to first-place Redlands 111-46, tied for first-place Occidental 110-47 and third place Claremont-Mudd-Scripps 111-43.
Timmy Kahovec had an impressive day for the Violet and Gold, placing second overall in the 800m and third overall in the 1500m. The junior from Saugus, Calif. ran the 800m in 1:56.31 while setting the 10th fastest time in CLU history in the 1500m with a time of 4:00.15.
Dillon Brown led the Kingsmen in the jumping pit, setting season best marks in the Long Jump (6.60m) and Triple Jump (13.68m) while placing third in both events.
In the sprints, Obasi Dees ran an 11.04 for a fourth place finish while teammate Wendell O'Brien finished right behind him with a time of 11.12. Cameron James led CLU in the 200m with a fifth place finishing time of 22.17. The trio of Dees, O'Brien and James, along with Dallas Knapp raced to a third place finish in the 4x100m Relay in 42.04.
Knapp paced the Kingsmen in the 400m to finish fourth with a time of 49.87 while Christian Brodnax went 49.92 for fifth.
Knapp, Brodnax, Kahovec and James teamed up in the 4x400m Relay where the quartet finished in second place with a time of 3:19.72.

In the 5000m, Rigoberto Baza Carillo finished as the top Kingsmen in the race with a time of 17:00.73 while Michael Miller was close behind at 17:01.05. Baza Carillo also led the way in the 3000m Steeplechase with a time of 11:12.58.
In the throws, Cody Jones set a season best mark with a throw of 42.79m to place fifth in the Javelin. Ryan Fisher led the way in the Discus (37.49m) and Hammer (39.78m) and Adam Silverman led CLU in the Shot Put at 11.43m.
Cal Lutheran (3-5 SCIAC) will take next weekend off and prepare for the SCIAC Championships which will be held at Pomona-Pitzer on Friday and Saturday, Apr. 28-29.
Results: SCIAC No. 3
CLU Instagram: http://instagram.com/clusports#
Track & Field Instagram: https://www.instagram.com/clu_track_field/
CLU Twitter: https://twitter.com/clusports
Track & Field Twitter: https://twitter.com/CLUTrackField
CLU Facebook: https://www.facebook.com/clusports