Regals Shutout by Sagehens
CLU falls to Pomona-Pitzer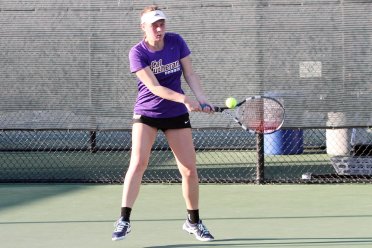 CLAREMONT, Calif. – A Southern California Intercollegiate Athletic Conference (SCIAC) road match today between the Cal Lutheran and Pomona-Pitzer women's tennis teams went to the Sagehens in shutout fashion as the Regals fell 9-0 to the Intercollegiate Tennis Association (ITA) No. 5 ranked team.
While courts one and three were swept for 8-0 final scores, Gianna Cupo and Sarah Seeman stole a set in an 8-1 loss at No. 2 for the Violet and Gold this morning.
In singles action, Cupo again represented the biggest challenge for the Hens, playing at No. 4 where the CLU junior battled in a 6-2, 6-3 loss. Emily Werman got out to a strong start on court two despite falling 6-2, 6-0. The other points won today came at No. 1 from Christie Kurdys and at No. 5 from Nicole Neumann who each dropped 6-0, 6-1 decisions.
Rounding out the Regals was Kylie McLellan who teamed up with Neumann for No. 3 doubles and played the sixth and final singles sequence for CLU today.
Cal Lutheran (4-10, 2-4 SCIAC) concludes SCIAC first round action next Saturday, April 22, when the Regals travel to Chapman to face the Panthers at 10:00 a.m.
Box Score: PP 9, CLU 0 – box score unavailable at time of release
CLU Instagram: http://instagram.com/clusports#
W Tennis Instagram: http://instagram.com/regals_tennis/
CLU Twitter: https://twitter.com/clusports
W Tennis Twitter: https://twitter.com/CLUwTennis
CLU Facebook: https://www.facebook.com/clusports
Hashtags: #clusports #ownthethrone #goregals