Kingsmen Steal Doubles Set from Stags
CLU drops decision to CMS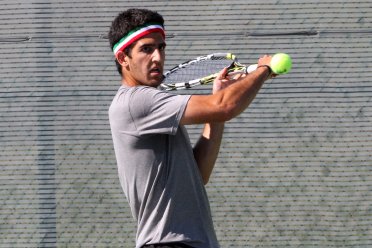 THOUSAND OAKS, Calif. – Playing at home on a gorgeous Good Friday afternoon, the Cal Lutheran men's tennis team hosted Southern California Intercollegiate Athletic Conference (SCIAC) leading and Intercollegiate Tennis Association (ITA) No. 3 Claremont-Mudd-Scripps for a dual match at the Poulson Tennis Center where the Kingsmen stole one set in an 8-1 loss to the Stags.
The No. 1 doubles team of Dara Kashani and Jake Haffner executed their game plan to earn an 8-6 victory over the tough and talented CMS duo of Jake Berber and Glenn Hull and post the lone Cal Lutheran team point of the afternoon.
At courts two and three, the pairs of Lucay Tilly and Austin Wong and Andrew Tufenkian and John Legardy battled, falling 8-4, and 8-3, respectively.
Once singles got underway, the closest matches came at No.2 where Tilly dropped a 6-3, 6-2 decision. Michael Sulahian challenged Max Macey, but was outscored 6-3, 6-1 on court four.
Cal Lutheran (5-15, 1-5 SCIAC) has a weeklong layoff before hosting Chapman in the final league dual match and home contest of the fall on Saturday, April 22 at 10:00 a.m. inside the Poulson Tennis Center.
Box Score: CMS 8, CLU 1
CLU Instagram: http://instagram.com/clusports#
M Tennis Instagram: http://instagram.com/kingsmen_tennis/
CLU Twitter: https://twitter.com/clusports
M Tennis Twitter: https://twitter.com/CLUmTennis
CLU Facebook: https://www.facebook.com/clusports
Hashtags: #clusports #ownthethrone #gokingsmen #d3t #theSCIAC