Kingsmen Tie for Fourth at SCIAC No. 2
CLU improves in second round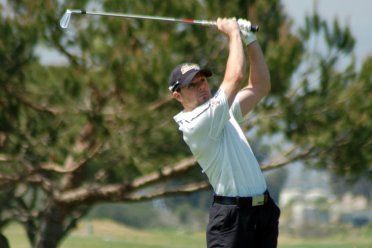 ANAHEIM, Calif. – Over the weekend, the Cal Lutheran men's golf team competed at the Southern California Intercollegiate Athletic Conference (SCIAC) No. 2 tournament hosted by La Verne at the Oak Quarry Golf Course where the Kingsmen improved on day two to tie for fourth with a team total of 609 (+33).
Playing the 7002 yard, par-72 course each day, the Violet and Gold took scores towards the team tally from all golfers. The first round saw CLU score a 310 before shooting a 299 in the second round.
Leading the way for CLU over the 36-holes was Zane Jarrett who shot a team-low 73 on Saturday and combined for a two-round total of 151 (+7) to tie for 10th. The lowest Sunday score came from Tyler Ferrier with a 74, a five stroke improvement from his opening round to place second for the Kingsmen with a 153.
Nate Gray and Andrew McLean were separated by just one stroke in the overall standings to finish with a 154 and 155, respectively, for ties in 19th and 22nd. Gray shave four strokes off his Saturday score to shoot a 75 on Sunday while McLean improved by five swings, taking his score from 80 to 75.
Rounding out the six-man team were Brian Helmuth and Jack Cavanagh who was each playing his first SCIAC tournament for the Kingsmen. Helmuth, posted a 79 on Saturday and a 77 on Sunday and Cavanagh carded an 81 and a 75 to tie for 25th in 156 in the individual standings.
Host La Verne was the top team finisher with a 593 (+17) after shooting an even par 288 in the opening round. Individually, Dylan Merchant from Redlands paced the field with an even 144, including a two-under 70 on Sunday.
Cal Lutheran has concluded the regular season and will prepare to play at the 2017 SCIAC Championships hosted by Claremont-Mudd-Scripps at Los Serranos Golf Club in Chino Hills, Calif. from Sunday, April 23 to Tuesday, April 25 with tee-times set for 7:00 a.m. each morning.
Results: SCIAC No. 2
CLU Instagram: http://instagram.com/clusports#
M Golf Instagram: http://instagram.com/clu_golf/
CLU Twitter: https://twitter.com/clusports
M Golf Twitter: https://twitter.com/CLUGolf
CLU Facebook: https://www.facebook.com/clusports
Hashtags: #clusports #ownthethrone #gokingsmen #theSCIAC #ncaad3 #purplepit