Regals Dominate Westmont
CLU wins second straight match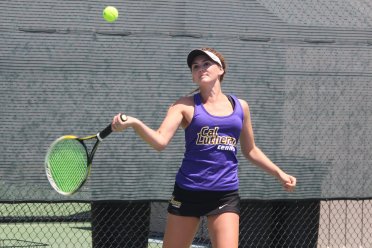 SANTA BARBARA, Calif. – The Cal Lutheran women's tennis team traveled to beautiful Santa Barbara on Monday afternoon where they toppled NAIA Division I opponent Westmont 7-2.
Shelby Kubota and Annette Sousa paired up at No. 3 and cruised to an 8-2 victory to give the Regals their first point of the match. Moments later, Gianna Cupo and Sarah Seeman finished off their opponent 8-2 at No. 2, and CLU took a 2-1 lead after doubles play.
The Violet and Gold carried the momentum over to singles competition and won courts No. 2 through No. 6 in straight sets. Christie Kurdys battled into a third set tiebreaker at No. 1 against the Warriors top player, but ultimately fell in a tough battle 6-4, 2-6, 10-5. Kubota made quick work of her opponent at No. 6 with a 6-1, 6-2 win and Sousa followed with a 6-2, 6-2 win at No. 5. Emily Werman picked up a 6-0, 7-5 victory at No. 2 and Cupo came through with a 6-2, 6-4 win at No. 4. Seeman rounded out the Regals singles victories with a 6-3, 6-2 decision at No. 3.
Cal Lutheran (3-7) returns to the courts with a non-conference match against Whitworth (Wash.) next Wednesday, Mar. 29 at 4:00 p.m. at Poulson Tennis Center.
Box Score: CLU 7, WC 2 – Box Score unavailable at time of release
CLU Instagram: http://instagram.com/clusports#
W Tennis Instagram: http://instagram.com/regals_tennis/
CLU Twitter: https://twitter.com/clusports
W Tennis Twitter: https://twitter.com/CLUwTennis
CLU Facebook: https://www.facebook.com/clusports