Regals Return to Win Column
CLU snaps four-game losing streak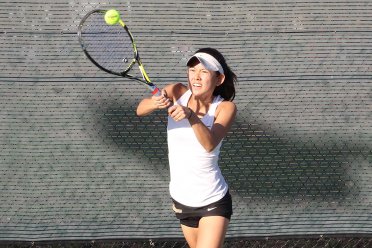 VENTURA, Calif. – In a non-conference match on Friday afternoon, the Cal Lutheran women's tennis team snapped a four-game losing streak with an 8-1 victory over Ventura College at the Ventura College Tennis Center.
The Regals jumped out to an early 3-0 lead after sweeping the doubles portion of the match. The duo of Emily Werman and Christie Kurdys took care of their opponent 8-2 at No. 1, while Gianna Cupo and Sarah Seeman, along with Shelby Kubota and Annette Sousa,handled their matches 8-3 at No. 2 and No. 3, respectively.
In singles play, the Regals swept the pirates in straight sets on courts No. 1 through No. 5. Seeman was impressive at No. 3 with a 6-0, 6-0 victory while Cupo had little problems at No. 4 with a 6-0, 6-1 win. At No. 1, Kurdys picked up a 6-4, 6-2 win, Werman won 6-2, 6-1 at No. 2 and Sousa downed her opponent 6-1, 6-1 at No. 5 to round out the singles victories.
Cal Lutheran (2-7) returns to the courts on Tuesday, Mar. 20 at Westmont starting at 1:00 p.m.
Box Score: CLU 8, VC 1 – Box Score unavailable at time of release
CLU Instagram: http://instagram.com/clusports#
W Tennis Instagram: http://instagram.com/regals_tennis/
CLU Twitter: https://twitter.com/clusports
W Tennis Twitter: https://twitter.com/CLUwTennis
CLU Facebook: https://www.facebook.com/clusports