Regals Conclude Non-Conference Play with Pair of Wins
CLU defeats Macalester, Connecticut College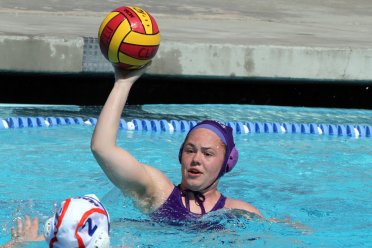 THOUSAND OAKS, Calif. – The final tune-up tournament of the spring for the Cal Lutheran women's water polo team was a successful one as the Regals defeated both Macalester (Minn.), 10-7, and Connecticut College, 14-9, to round out non-conference play in 2017.
CLU worked on executing defensively while pouring in goals in both games. CLU combined for 24 goals today as all active players saw action, including debuts for Gaby Renteria and Madelynn Silvas. Carissa Carlos, Taylor Martinez and Remy Wilkison all scored the first goal of her collegiate career and Avery Karich notched her first goals of the season.
In the first game, six players scored as CLU spread out its playing time. Sam Wulfestieg led the way with a hat-trick and both Kristi McGee and Nikki Roed scored twice with Wilkison, Erin Cunefare and Christin Hirn adding the remaining goals. Wilkison recorded her first career goal for CLU in the contest. Megan Seeman handed out two of the five assists with KC Brendel, Mackenzie Thomas and Jayci Burrell each adding one as well. Nicole Guerriero earned three drawn ejections and Wulfestieg tallied who while Wilkison and Victoria Rose Meek also chipped in with one apiece. Burrell won two of the four sprints for the Regals as well.
Defensively, 10 players grabbed a steal, including Silvas and Taylor Martinez. Splitting time in front of the cage, both Renteria and Bailey Meyer totaled four saves in 16 minutes of work.
The nightcap saw a rematch of last weekend when the Regals and Camels faced off twice at the Connecticut College Tournament. CLU completed the season sweep after downing CC 12-2 and 13-1 on the East Coast.
Cal Lutheran jumped out to a quick 6-1 lead and never looked back. Again, CLU spread the scoring out as 10 different players found the back of the net. While Karich, Meek, Roed and Seeman tallied two apiece, Carlos earned her first goal for the Regals and Burrell floated her first collegiate goal into the back of the net in the second stanza. Wilkison added her second of the day. Carlos and Meyer led the way with two assists each and Burrell and Karich handed out one in a game when the Violet and Gold supplied 12.
At the defensive end, Meyer and Renteria again shared time guarding the cage, recording three and five saves, respectively. McGee managed three steals and Meyer finished with a pair as CLU combined for 11 with steals by Carlos and Silvis. Finally, Wilkison and Maddie Campbell came up with field blocks.
Cal Lutheran (9-8) begins Southern California Intercollegiate Athletic Conference (SCIAC) play on Saturday, March 18 against Occidental. First sprint is scheduled for 11:00 a.m. at the Samuelson Aquatics Center.
Box Score: CLU 10, MAC 7
Box Score: CLU 14, CC 9
CLU Instagram: http://instagram.com/clusports#
W Water Polo Instagram: http://instagram.com/regals_water_polo/
CLU Twitter: https://twitter.com/clusports
W Water Polo Twitter: https://twitter.com/CLUwWaterPolo
CLU Facebook: https://www.facebook.com/clusports
Hashtags: #clusports #ownthethrone #goregals