Royals Rally Past Kingsmen
Gallardo tallies a game-high 18 kills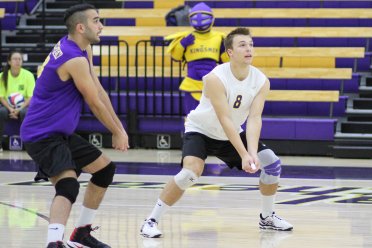 THOUSAND OAKS, Calif. – The Cal Lutheran men's volleyball team welcomed a formidable Hope International squad to Gilbert Arena on Thursday night, and fell 3-1 (18-25, 27-25, 25-22, 25-18) in a match that featured many long rallies and evenly contested sets between the two teams.
The Kingsmen came out strong in the first set, hitting .267 with 11 kills while limiting the Royals to a .029 clip early on. Mikey Esper and Michael Campbell got things going with kills to start the match and CLU took advantage of six Hope International attacking errors within the first ten points. The Royals eventually made a small run, but the Kingsmen were able to hold onto their lead, behind strong play from Patrick Rowe and Kristian Gallardo, to take the first set 25-18.
The second and most critical set of the evening nearly saw the Kingsmen take a 2-0 set lead before the Royals stole the set 27-25 and with it, the momentum. After trading point-for-point to start the set, HIU spurted out to a 16-10 advantage and looked to take the set easily. CLU, however, showed a lot of fight and grit in the match and clawed its way back to tie the score at 17-17. Gallardo logged three kills during the run while Rowe added two and the Kingsmen were back in business. With the score tied at 20-20, both teams literally traded point-for-point until the score was tied at 25-25 and the Royals pulled it out with back-to-back kills from Tyler Greene.
The Kingsmen put up a valiant effort in the third, hitting a team-high .300 in the set, and found themselves within one point, 19-18, down the stretch once again. HIU, however, took six of the next ten points to take the set 25-22 and a 2-1 lead.
With the wind out of the sails, the Royals rolled out to a big lead and capped off the win with a 25-18 fourth set victory.
Gallardo tallied a game and season-high 18 kills while Rowe notched a career-high with 15 kills. Nick Shoemate also set a new career-high with 46 assists and Jamal Balkhi finished with a team-high 13 digs. Gallardo and Shoemate also came up big in the dig department with eight apiece. Justin Dietrich alsohad a strong performance with seven total blocks to go along with six kills.
The Royals were led by Zach Greene, who finished with 17 kills, and Tyler Greene, who added 16. Nicolas Bilinski was right behind with 15 kills while Kevin Baran-Maguire also reached double-figures with 10 kills. Z. Greene finished with a game-high 16 digs.

Cal Lutheran (2-8) will now head to Arizona for a pair of matches this Saturday, Feb. 18 beginning at 2:00 p.m. against Benedictine-Mesa followed by a 5:00 p.m. match against Grand Canyon.
Box Score: HIU 3, CLU 1
CLU Instagram: http://instagram.com/clusports#
M Volleyball Instagram: https://instagram.com/kingsmen_volleyball/
CLU Twitter: https://twitter.com/clusports
M Volleyball Twitter: https://twitter.com/CLUmVolleyball
CLU Facebook: https://www.facebook.com/clusports