Records Fall, NCAA "B" Cuts Achieved on Day Two of SCIAC Championships
CLU sends two individuals, relay to podium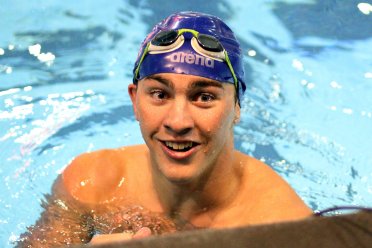 COMMERCE, Calif. –On day two of the 2017 Southern California Intervollegiate Athletic Conference (SCIAC) Swimming and Diving Championships Cal Lutheran earned three podium stands with two individuals and one relay breaking school records at the Brenda Villa Aquatics Center today.
As he has done throughout his freshman season, Ben Brewer swam among the top of the pack, earning an NCAA "B" cut time of 4:29.12 in the 500 free to place second and take home his first individual medal. Junior Jonah Hobbs swam by Brewer's side, finishing just off the podium in fourth after clocking a 4:32.52, though he also reached an NCAA "B" cut in a fast field. The pair entered the race seeded first and third, respectively, with morning swims of 4:31.64 and 4:34.13, which were both NCAA "B" cuts as well. Earlier today, Brewer broke the CLU record of 4:33.92, set by Hobbs at the 2015 SCIAC Championships, by almost two seconds and went on to shave even more time off the mark tonight. Thomas Hamburger also earned a spot in the consolation final for the 500 by clocking a 4:48.82 in the morning to be seeded 16th before coming back in 4:48.09 tonight.
Sprinting for the Kingsmen, Zach Zamecki took his first individual trip to the medal stand, clocking a school record 20.66, NCAA "B" cut time to take third for the Kingsmen. Joining the junior in the championship final were Jacob Frigard (20.79) who just missed the podium in fourth and Thelen McKinna-Worrell who finished in 21.04 to place sixth. This morning, Frigard swam to 20.85 to break the previous CLU record of 20.92 and lock up the third seed coming into tonight's competition. Zamecki got in as the seventh seed in 21.22 and McKinna-Worrell was tied for the eighth spot in 21.25. The consolation heat featured George French and Liam McCallum who recorded identical swims of 21.52 in preliminaries to share the 14th spot. French finished in the same time during the evening session, again hitting the wall in 21.52 for sixth while McCallum finished in 21.81.
Newcomer Ryan Emili earned the ninth spot in the final heat of the 200 Individual Medley after going 1:56.16 in the morning, returning to the pool to swim a faster 1:55.25 to move up one spot and finish eighth for the Kingsmen in his first championship race.
To close out day two, the 200 Free Relay team of Zamecki, Frigard, French and McKinna-Worrell teamed up for a time of 1:22.64 to reach an NCAA "B" cut and break the school record of 1:24.30. set in 2015.
After preliminaries and before finals between the lanes, Ricky Mendoza stepped up on the three-meter diving board in finals, scoring a six-dive 197.50 to move up a spot, finishing fifth after qualifying with an 11-dive 314.15 to hold the sixth spot in his final meet for CLU.
Pomona-Pitzer (363) maintains the top team spot and holds a lead over Claremont-Mudd-Scripps (331) with Cal Lutheran (263) sitting in third. Redlands (210), La Verne (163), Occidental (147), Caltech (126), Whittier (119), and Chapman (99) round out the team standings after two days.
Day three of competition will begin at 9:00 a.m. on Friday, Feb. 17 with preliminaries followed by finals at 5:00 p.m. Events being featured will be the 400 Individual Medley (IM), 100 butterfly, 200 freestyle, 100 backstroke, 100 breaststroke, 400 Medley Relay and women's three-meter diving finals.
Results: Day Two
Tournament Central: 2017 SCIAC Championships
CLU Twitter: https://twitter.com/clusports
S&D Twitter: https://twitter.com/CLUSwimDive
CLU Instagram: http://instagram.com/clusports#
S&D Instagram: https://www.instagram.com/clu_swimming_diving/
CLU Facebook: https://www.facebook.com/clusports