CLU Reaches Podium on Opening Night
Kingsmen take third in 800 Free Relay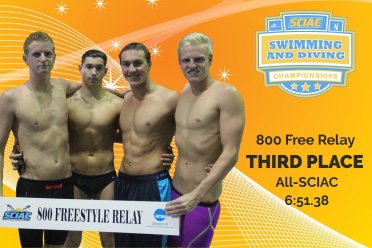 COMMERCE, Calif. – On opening night of the 2017 SCIAC Swimming and Diving Championships, the Cal Lutheran men's swimming and diving team reached the podium in the 800 Free Relay while setting a school record in the 200 Medley Relay and 50 free at Brenda Villa Aquatics Center.
Entering the final event of the evening with the third fastest seed time, the 800 Free Relay team of Zach Zamecki, Ben Brewer, Ryan Emili and Jonah Hobbs lived up to expectations with a time of 6:51.38 to place third overall. Zamecki, in the leadoff leg, swam the fastest 200 split of 1:41.93 and Brewer followed with a 1:43.69 while Emili and Hobbs swam nearly identical times of 1:42.84 and 1:42.94, respectively. The podium finish marks the third straight year that the Kingsmen have earned All-SCIAC in the event.
The Violet and Gold also had success in the 200 Medley Relay on Wednesday night, as the quartet of Zamecki, Emili, Jacob Frigard and Thelen McKinna-Worrell raced to a school record time of 1:35.33 to place seventh overall. Zamecki opened the relay with a split of 25.13 in the backstroke followed by a 27.13 breaststroke time from Emili. Frigard went 22.61 in the butterfly while McKinna-Worrell set a sizzling 50 free time of 20.46 to anchor the relay.
Davy Thomas, David Retta, Cesar Vasconcelos and Liam McCallum helped the 200 Medley "B" Relay squad to a 13th overall finish with a time of 1:38.55 while the 800 Free "B" Relay team of McKinna-Worrell, Retta, Thomas Hamburger and George French placed 12th overall with a time of 7:04.95.
Ricky Mendoza competed earlier in the day in the three-meter diving preliminaries and will compete in the finals on Thursday.
After one day of competition and five events in the books, Pomona-Pitzer sits in first place with 122 points. Claremont-Mudd-Scripps is in second with 114 points and Cal Lutheran is in third with 90 points.
Day two kicks off at 9:00 a.m. with preliminary heats in the 500 free, 200 IM, 50 free, and 200 free.
Results: Day One
CLU Twitter: https://twitter.com/clusports
S&D Twitter: https://twitter.com/CLUSwimDive
CLU Instagram: http://instagram.com/clusports#
S&D Instagram: https://www.instagram.com/clu_swimming_diving/
CLU Facebook: https://www.facebook.com/clusports