Regals Edged by Loggers
CLU finishes 1-1 in Doug McArthur Classic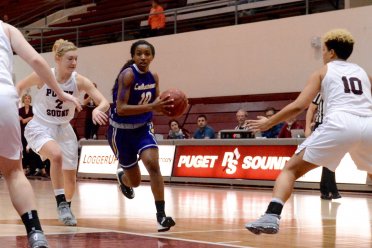 TACOMA, Wash. – In their second game in as many days the Cal Lutheran women's basketball team took on the Puget Sound Loggers in the final day of the Doug McArthur Classic, falling just short to the home team, 75-81.
The Regals jumped out to the early lead but the Loggers battled back to lock things in at 13-13 with two minutes remaining in the first quarter. Puget Sound took the lead shortly after and headed into the first break with a slim 18-17 lead over CLU.
Zoe Tinsley scored the first basket in the second frame to help the Regals reclaim the lead, but Logger guard Alexis Noren scored shortly after to give the lead back to UPS. The contest remained close throughout all four quarters, including three different lead changes. Jessica Salottolo led the Regals in the second quarter with six points and also added an assist. Cal Lutheran headed into halftime down 35-40.
Puget Sound opened up the scoring in the third frame on the three-pointer from Mikaela Limper. CLU was down 41-50 five minutes left, but gained some momentum in the end of the third when Janelle Porter scored a jumper and added a three-pointer off of the assist from Katy Lindor with 3:34 left. The Loggers continued to create opportunities and the Regals were down 46-60 with a minute left in the quarter, but gained some ground as the quarter came to a close behind a three-pointer from Salotollo and a layup from Tatiana Dunlap.
The Regals came out with high intensity in the fourth. Kiana Gray, Haley Hodgson, and Salottolo each sank a shot from beyond the arc within the first minute and a half of the final frame to bring things back to 64-67. Cal Lutheran closed the margin even further shortly after, with 4:51 remaining Porter drove to the basket and brought the Regals within one, 70-71. Puget Sound added three more behind a three-pointer from Samone Jackson with 4:04 remaining, giving the loggers the 74-70 advantage. The Regals continued to fight but fell 81-75 in a close fought contest.
Porter led the Regals with 15 points, shooting 6-9 from the field. Salottolo finished with 14 points, and also tacked on five rebounds and three assists while Hodgson finished with 11 points and seven rebounds.
Elizabeth Prewitt from UPS led all players with 18 points, while Jackson finished with 17 for the Loggers.
Cal Lutheran (1-1) will return to their home court on Tuesday, Nov. 22 to take on Master's College at 3:00 p.m. inside Gilbert Arena.
Box Score: UPS 81, CLU 75
CLU Instagram: http://instagram.com/clusports#
CLU Twitter: https://twitter.com/clusports
CLU Facebook: https://www.facebook.com/clusports