Van Klaveren a Finalist for Jostens Trophy
Senior center among final 10 candidates for national honor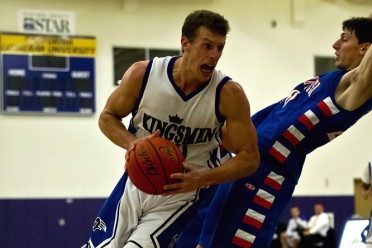 SALEM, Va. - Aaron Van Klaveren of the Cal Lutheran men's basketball team is one of 10 finalists for the 2012 Jostens Trophy, as announced on Tuesday. The Jostens Trophy is a national award created by the Rotary Club of Salem, Va., to honor the most outstanding men's and women's Division III basketball players of the year.

Release: Jostens Trophy Finalists

The award takes into account three vital parts: basketball ability, academic prowess and community service. The trophy models the Rotary International motto of "Service Above Self" by recognizing those who truly fit the ideal of the well-rounded Division III student-athlete. This year's class marks the 15th year the award has been presented.

The awards presentation is scheduled for Thursday, March 15, at the Salem Civic Center in conjunction with the Men's Division III Championship being hosted in Salem, Va., on March 16-17.