Roth Named to D3baseball.com Team of the Week
Roth earns national honor after record-setting weekend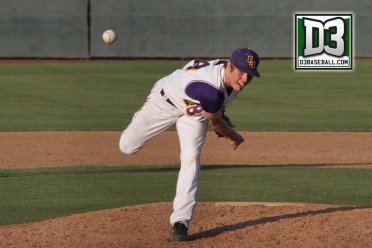 MINNEAPOLIS, Minn. -- For the second time in three weeks, Cal Lutheran has had a player named to the D3baseball.com Team of the Week. After third baseman Nicho DellaValle earned the honor back on April 9, junior relief pitcher Aaron Roth was selected to the national team Tuesday for his performances last weekend against La Verne.
In a three-game sweep that clinched the No. 1 overall seed in the upcoming Southern California Intercollegiate Athletic Conference (SCIAC) tournament for Cal Lutheran, Roth pitched 5.1 shutout innings and struck out seven in his two appearances.
On Friday night, Roth was unhittable in his two innings of work, striking out four and walking none as CLU cruised to a 5-1 victory. Roth then picked up his SCIAC-leading eighth save of the season during game two, pitching the final 3.1 innings and striking out three.
The Camarillo, Calif. native is currently in the midst of a school record 40.2 consecutive scoreless innings pitched. Primarily used as a closer, Roth leads the team with 22 appearances and has been automatic since SCIAC play began, converting all six save chances. His 1.09 ERA leads the conference and he ranks fourth in strikeouts with 53. Roth needs just five more appearances to tie the record for most in a single season at Cal Lutheran.
No. 7 Cal Lutheran (28-6-1, 21-3 SCIAC) wraps up its regular season with four games this week. On Wednesday, April 24, CLU travels to Claremont-Mudd-Scripps before taking on La Verne on Saturday, April 27, at Rio Hondo Junior College. Finally, the Kingsmen then return home on Sunday, April 28, for a split doubleheader when they host Chapman at 11:00 a.m. and Caltech at 3:00 p.m.
Release: D3baseball.com Team of the Week
Facebook: www.facebook.com/clusports